Linsey Dawn McKenzie » Flying Solo
Unable to play the trailer? Try one of these:
MP4 480X360
Linsey begins this vid by reading a Boob Beat column by Elliot James in January 2004 SCORE magazine about her being newly single. The Brit superbabe and her first hub (who did the horizontal cha-cha with her in Ultimate Linsey) have divorced so she's back on the solo scene. What to do now? A quick toying is the answer to all female situations! Linsey bounced back later on because nothing keeps her down for long. .
5:55 mins
Rating
Download Options
Full Scene Download
Five-minute Clips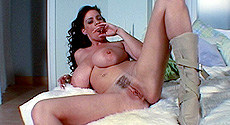 More Linsey Dawn McKenzie Videos