Linsey Dawn McKenzie » Boobahontas
Unable to play the trailer? Try one of these:
MP4 480X360
Government historians have supressed the truth for years but now the facts can be revealed. Believe it or not. There once lived a tribe of unusually busty Englishwomen called the Soboobas. They led an isolated existence in the dense forests not far from Nottingham, where they lived off the land and also lapdanced for extra wampum. It was very difficult for them to find properly fitting brassieres so they dressed in fake animal skins. The Soboobas were raised by scouts for the Cleveland Indians and Atlanta Braves, who trained them in the art of Tomahawk swinging and pole dancing.
18:57:00 mins
Rating
Download Options
Full Scene Download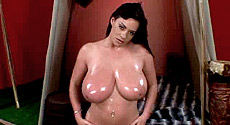 Five-minute Clips
More Linsey Dawn McKenzie Videos