Linsey Dawn McKenzie » Linsey: Secretary At Work
Unable to play the trailer? Try one of these:
MP4 480X360
Linsey goes to the office of her supervisor Miss Grosby to deliver a memo but she's out of the building, prompting Linsey to make a comment about her excessive lunches. It's obvious that LDM has no love lost for this unseen executive, whom Linsey thinks is a bitch. Linsey decides to snoop at employee dossiers that she finds in an unlocked file cabinet. She discovers that Miss Grosby keeps a personnel file on her amongst other employees, including decidedly non-corporate commentary about what Linsey wears at work and whether her nipples show through her blouses! Very unprofessional, to say the least! Linsey realizes that she's been a secret object of sexual desire by her boss for years, never knowing that Miss Grosby is, in fact, a lesbian, although she had suspected it. LDM wonders if Miss Grosby's office is monitored by surveilance cameras. The thought of that excites her.
24:45:00 mins
Rating
Download Options
Full Scene Download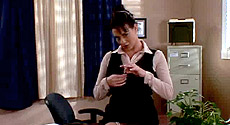 Five-minute Clips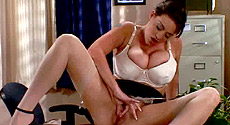 More Linsey Dawn McKenzie Videos