Linsey Dawn McKenzie » Country Girl
Unable to play the trailer? Try one of these:
MP4 480X360
"You're a stranger to Croyden County, ain't ya, Mister? What's in the suitcase? Bra samples! Mmm, nuthin' a decent gal could wear. Well, Goober's fillin' station ain't open until 6am so you're a'gonna have to spend the night here. In the morning, I can run you over and get your tire fixed. Now, I hope you don't mind none but we got a right small place here. So you're gonna have ta sleep in my daughter Linsey's room. Don't mind her none'.
23:18:00 mins
Rating
Download Options
Full Scene Download
Five-minute Clips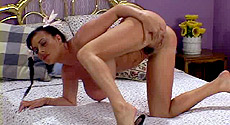 More Linsey Dawn McKenzie Videos