Linsey Dawn McKenzie » The Fuck Machine
Unable to play the trailer? Try one of these:
MP4 480X360
There's an odd man who makes strange, bizarre devices out of motors, crankshafts, vibrators and dildos, like something from a David Cronenberg movie (The Fly, Videodrome). He calls his enterprise "Ken's Twisted Mind." One of his nefarious machines has found its way into Linsey's lab and she's not shy about wanting to strap it on or take the credit for inventing it. "The Fuck Machine!," LDM triumphantly calls it. "I get fucked by my invention," Linsey announces. The mind boggles. "All I need now is to get naked." Linsey warms up with a striptease, thankfully removing her bulky clothes.
November 15th, 2020
22:25:00 mins
Rating
Download Options
Full Scene Download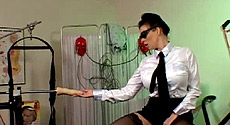 Five-minute Clips
More Linsey Dawn McKenzie Videos