Linsey Dawn McKenzie » The Bra Shop
Unable to play the trailer? Try one of these:
MP4 480X360
An assortment of brassieres have been set up for Linsey's educated perusal. Early on in life, Linsey became expert in the fitting and purchasing of bras. She knows quality and comfort. Observe how fast Linsey puts on the first two bras she inspects. She first hooks the band in front of her and then slides the bra around her waist to insert her breasts in the cups and place the straps over her shoulders. She tries on a pair of long frilly panties, seems to like them and takes them off so she can rub her carefully trimmed, self-opening pussy.
November 3rd, 2020
19:58:00 mins
Rating
Download Options
Full Scene Download
Five-minute Clips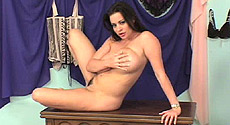 More Linsey Dawn McKenzie Videos