Chloe Vevrier » Ultimate Chloe: Chloe & Kathy
Unable to play the trailer? Try one of these:
MP4 480X360
Chloe loves pussy. The sight, the taste, the scent. She met her soulmate in Kathy, a Russian emigre living in the United Kingdom. Chloe and Kathy share a love for pussy that even the most hardcore of lesbians can't match. These two are literally pussy drunk. Kathy's appeared in numerous late '90s SCORE videos sucking on clits and tits as well as exposing her pink and tits in solo but she was afraid to take the hardcore plunge with porn studs though asked many times.
August 26th, 2010
39:25 mins
Rating
Download Options
Full Scene Download
Five-minute Clips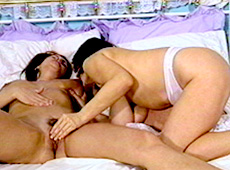 More Chloe Vevrier Videos