Chloe Vevrier » Chloe The Legend Part 3
Unable to play the trailer? Try one of these:
MP4 480X360
This is an up-close-and-personal look at a big-busted legend. Periodically, Chloe would announce her plans to quit showing her tits and pursue some spiritual lifestyle somewhere. Her threats never materialized. This video was produced in England during one of those moments. Narrated by Chloe in her sultry accent, Chloe The Legend is a compilation of various videos shot all over the world as Chloe reflects on her life, modeling and future.
August 25th, 2010
05:49 mins
Rating
Download Options
Full Scene Download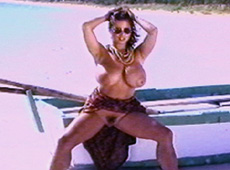 Five-minute Clips
More Chloe Vevrier Videos